I wanted to visit Saint Matthew so I could check out their garden, which received a grant from the Mission Coordination Committee a few years ago, but was lucky enough to also visit on a Sunday when they welcomed 8 (that's right eight!) new members, as well as a baptism and some great preaching. Their church is spread out over a few buildings a beautifully forested piece of land. A wonderful place to find communion with God!
When visiting Church of the Covenant in Arlington Virginia, one quickly figures out that this is a congregation that isn't afraid to embrace both art and creative worship ideas. I tried to capture some of that spirit with my photographs that Sunday, but a few of the photos probably need some explanation.
The first photo presented is that of an art installation hanging from the ceiling, created by a member of the church. Hopefully the image of the dove is clear, but what is not clear is that the dove is made of prayer cards submitted by the congregation. As the congregation enters this space each week, their prayers are there, reminding them of the way the Holy Spirit works in listening to and answering those prayers.
The angel wings (the third image in this set) is part of a larger body of work that was donated to the church. A large number of canvases by a local artist were donated to the congregation and fill the hallways and common spaces of the building. This particular work of art is in the Narthex and from what i was told, is used as a backdrop for the congregation's member directory.
The last photos that need explaining are the ones of what looks like a plastic bag floating around the sanctuary. I visited Church of the Covenant on Ascension Sunday and they had this wonderful "installation" as part of the children's sermon. On the bag was a drawing of Jesus, and on the floor was a toaster surrounded by a box a foot or so tall. The bag was placed on the box, the toaster was turned on, and after a few dozen seconds or so, the bag shot up towards the ceiling like a hot air balloon, a fun visual for the children, and a playful engagement with the text.
But beyond just engagement in the Arts, Church of the Covenant is one of the key churches involved in the day laborer ministry in Shirlington (a photo album for that ministry is included lower down on the main churches and projects page). That is how i was first introduced to the congregation, and am excited about all the pathways they continue to follow in fulling Christ's call for them in the world.
If I can be so bold and start my experience at Trinity with their architechure. I love spaces that look modest on the outside and then, once inside, they seem to only get bigger and bigger. This was my experience with the building at Trinity. Based on the way that I entered, i thought i had a sense of inside space, but it just kept unfolding and unfolding, more offices and more space, it was pretty cool. On top of this, when they remodeled the space some years ago, they decided to build something like an atrium around the original sanctuary, preserving the original feel of the space while providing expanded use for a growing congregation.
Besides the space, I really enjoyed worshiping here. They have two services, a praise style worship and a traditional worship, and each has their own unique feel to them. I preached at both services, and had a wonderful time engaging with members.
And much like their building, as I learned more and more about their efforts in mission and service, i was amazed at the amount of work they are doing, a truly inspirational congregation.
Officially, this is the second time Silver Spring Presbyterian Church has made its way onto the churches and projects photo album pages. A few seasons ago, I got to visit the Silver Spring Farm, which a grant from the Mission Coordination Committee helped create. My relationship with Silver Spring is a strong one, with members from that congregation regularly worshiping with the congregation I serve for baptisms and special events. But this was the first chance I got to worship with Silver Spring on a Sunday morning.
I wish I had more photos, but since I was preaching there that Sunday, I didn't get to take as many photos as I normally would. What I hope the Photos do show is a vibrant worship service with a great deal of singing and dancing.
Silver Spring Presbyterian is one of the churches that helps dispel the stereotype of Presbyterians as the frozen chosen, this congregation is anything but frozen!
Let me start by saying that I wish I had more photos of this congregation, but I was preaching the sunday i visited, which always ends up keeping me from taking as many photos as I would like to.
What is maybe most exciting about Fairlington is that they are taking a big leap of faith into a new world for Presbyterian Churches. They are set to redevelop their property with affordable housing. They are not the first church to try this, Arlington PC and Westminster DC are both in similar processes, but Fairlington is unique because they do not have members as versed in property re-development as the other two churches who have done this. In many ways they worked hard to listen to the community around them, as well as the community of faith that gathers every Sunday and set out to pursue this bold path learning as they have gone. As Arlington and Westminster have found out, the road ahead will be a bumpy one, there are so many moving pieces to re-developing a property, but with their strong commitment to mission, their commitment to each other and their strong commitment to worship and faith development, they will most certainly come out on the other side as a stronger congregation.
Faith Presbyterian Church is a wonderfully warm congregation with a lively gospel band and a true sense of community. The Church works hard to stay connected to the community through a strong relationship with the local Elementary School W.B. Paterson. If you ever get a chance to drop in on them in South East and worship with them, don't pass up the opportunity!
For many churches in our presbytery, the church building(s) are often situated on a large lot with rolling lawns and plenty of parking. One of the exceptions to that rule is Clarendon Presbyterian Church, which although it is situated in a fairly standard suburban style neighborhood, takes up just about all its space with a beautiful church building. From the outside it harkens to the older churches of england, but once inside, it is easy to appreciate what makes this congregation different. Not too long ago, the sanctuary was remodeled removing permanently fixed pews and opening up the space for more flexible use (including concerts from time to time). Worship had a laid back feel and children were present and welcome during worship. Pastor David Ensign led worship with a relaxed flow and give-n-take conversational style that invoked something of tried and true NPR programming. And although they don't have a ton of outside space, the space they do have they use for their Plot Against Hunger initiative, working with local groups to get fresh food into local food pantries.
Christ the King Presbyterian Church is the newest congregation in the National Capital Presbytery. After many years as an immigrant worshiping community, this year they were able to make the jump to be a full fledged congregation. Its been exciting for the congregation and the presbytery! Worship here is joyful, the music is great, and most of the service is in the Twi Language of Ghana. I really enjoyed myself, and enjoyed the opportunity to dance and sing and praise with such a joyful group of people. I was also excited to hear about some of the upcoming projects they have specifically a feeding program to reach homeless people in Prince Georges County
The Sunday I visited Knox Presbyterian Church was an exciting one, there were multiple baptisms being preformed, and some of them were adult baptisms! And yes, your eyes do not deceive you, that is a goat in church, it was part of the children's message. It was a fun I also caught them in the midst of their annual Scouting for Food effort, and that is presented by the last photo, where all the collected food was stored. One of the really exciting things about Knox is there Kids Club program, it is an opportunity during the week for neighborhood kids to spend some safe time together, playing games, working on homework, and getting a good meal. Some of those kids have even become part of the congregation!
I visited Mt Vernon Presbyterian on a sunny almost fall day while they were dedicating their newly renovated sanctuary and celebrating their 65th anniversary. I enjoyed getting to see the congregation is such celebratory spirits while getting to talk with members of the congregation about their love for their church and the ways in which mission feeds their faith.
While visiting Trinity I was blessed to hear a wonderful sermon on Psalm 121 by Pastor Rev Rebecca Messman as well as wonderful praise music from the church's youth. The breath of the congregation's ministry is broad as well as deep as they are thoroughly connected to both their neighborhood and the world. They have many members who are enthusiastic about mission and enjoyed telling me their stories and experiences.
I do want to point out the last picture, and I lament that there is only the one photo. On a Wednesday I made my way back out to Herndon to take part in the Lunch for the Soul program Trinity hosts. It is in collaboration with Riverside Presbyterian Church (you will see pastor Edwin from Riverside in the photo leading worship). The program is an opportunity for day laborers to come together and share a meal as well as the Word. For more info on that program and everything else Trinity is involved with check out Trinity's Service Mission webpage: www.trinityherndon.org/servicemission
From the moment I walked into Sargent Memorial Presbyterian Church I felt welcomed and was immediately introduced to various leaders within the congregation. As a result, I didn't get many photos because I spent so much time in meaningful conversation! I did get a shot of their awesome Gospel Choir as well as a wonderful mural across the street from the church dedicated to Phife Dawg, a rapper from the group Tribe Called Quest who has suddenly passed away shortly before my visit. A wonderful church doing important work in their neighborhood!
I have to be honest, I wish I had more pictures of Prince Georges Community Church, the service was amazing, the people were welcoming and warm, the music was top notch and the preaching was some of the best that I have heard. Part of the reason there are so few photos is because I so throughly enjoyed the service I forgot to take more. If you do get a chance, I think visiting this church, worshipping in a high school auditorium, is worth the trip.
I have been to Old Presbyterian Meeting House so many times for various meetings and gatherings, folks from this church are just so active in mission and at the presbytery level, i felt like i already knew the church so well! I will say it was absouletely wonderful to finally get a chance to worship with them and be present in such a wonderfully beautiful and historic space.
This Gallery includes two visits to Warner Memorial. I made my first visit to Warner to see their two gardens, a vegetable garden whose contents get donated to a local food pantry, and also an expansive Rain Garden, funded in part by Montgomery County's Rainscapes program. The Rain Garden helps control rain run off which in turn helps control urban water pollution. It also lessens the need for extra watering with the help of drought tolerant plants, soil that holds moisture more effectively and with the help of two large rain barrels that can store water for later use. If you are interested in learning more, they have a member that would be happy to come speak to your congregation!
The second visit was for worship. I went on beautiful summer day, which did result in a slightly smaller crowd then they are used to, but I got to learn about all the things the congregation is invovled with locally and beyond. Make sure to check out the images of their bulletin boards to get a sens of all Warner is involved in.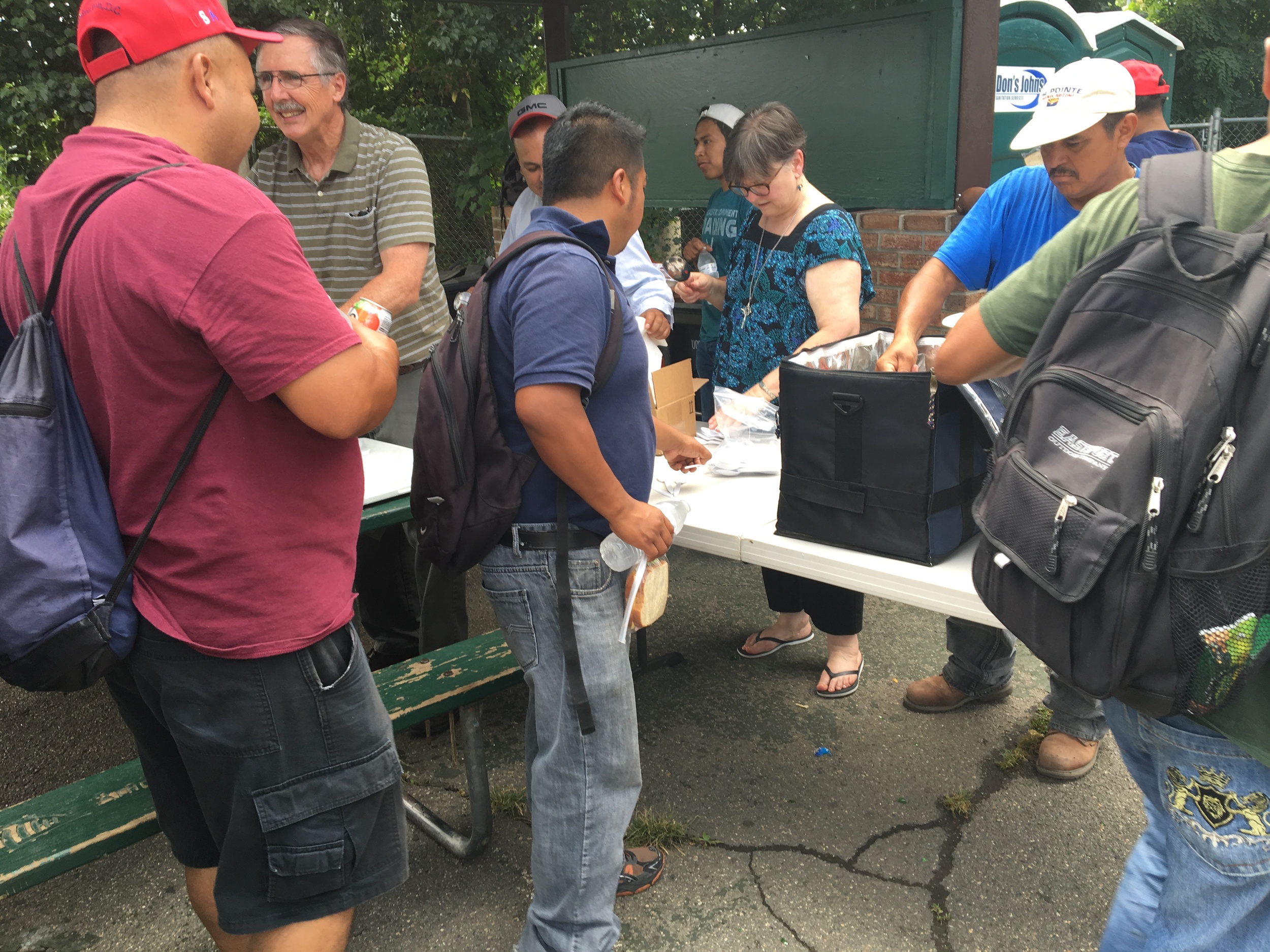 At the intersection of Shirlington Rd and 25th St is a pavillion and parking lot, daily lined with bicycles at the the far end. This small park, nestled between the WETA studio and the Weenie Beanie, has become a gathering place for men seeking work. The city of Arlington became aware of this and helped create the Shirlington Employment and Education Center (SEEC) who provides security, and training the men who gather and others in the area seeking to improve their job prospects.
On the Saturday I stopped by I became witness to something else that has started to emerge under the green pavillion. Over the last year or so a joint ministry started by a group of neighboring Arlington Churches (including NCP's own Church of the Covenant), has come together to not only offer a monthly worship service, but also to hire a Chaplain to minister to the men who gather there in the park (part of his salary is supported by a MCC grant). On the Saturday I was there, worship was led by Chaplain William, his wife and Rev Beth Goss in Spanish with guitars and congas. After words the men continued to sing songs and offer up their own guitar and conga skills to the group.
To compliment the worship, Bill Murphey, a volunteer from Church of the Covenant provided sandwiches and a fruit salad. Pastor William's wife even provided some foot rubs for the hard working day laborers.
The Photos included here don't show a ton of detail to help protect the privacy of those there.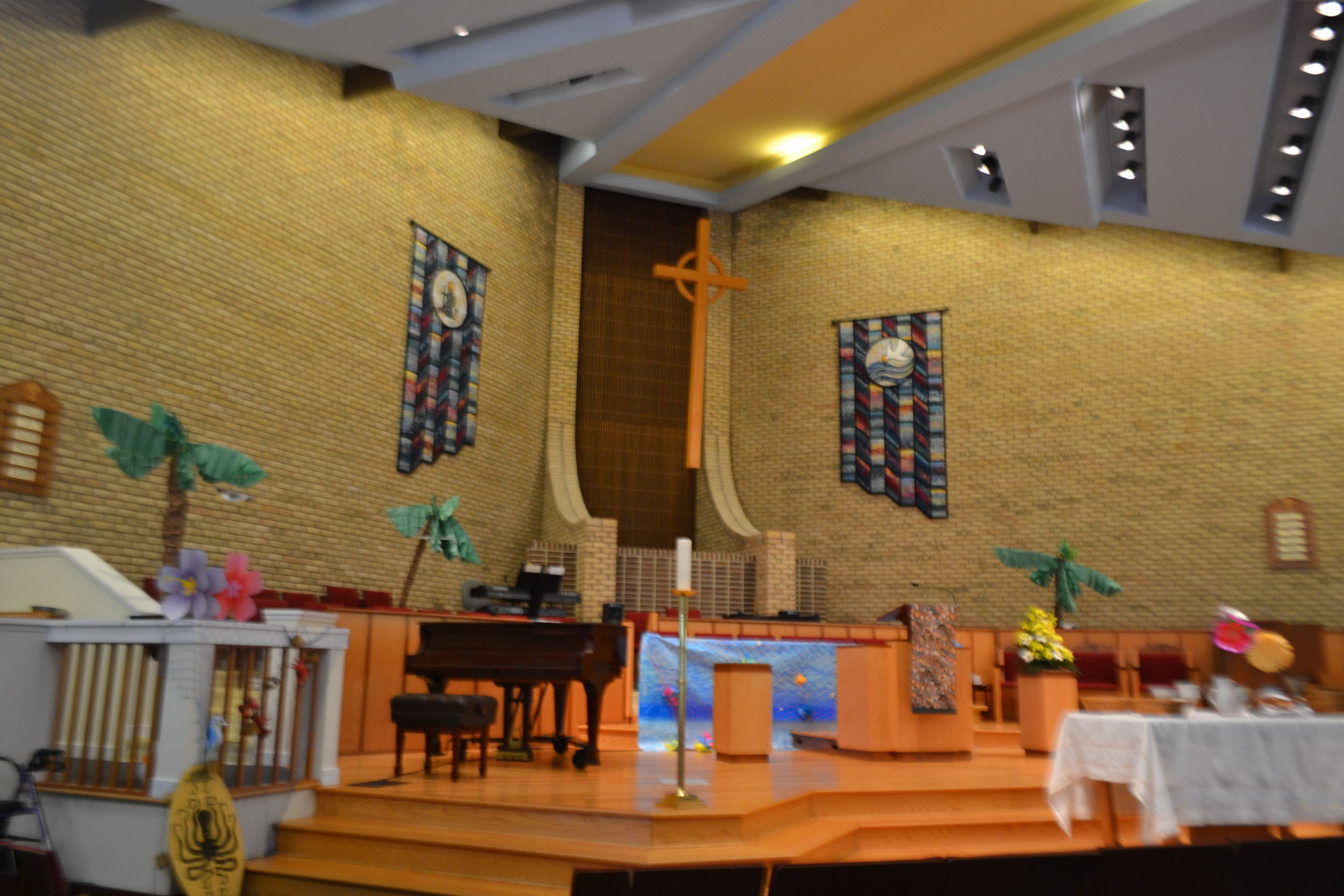 The day I visited Manassas, they were holding an 8:30 am Communion Service outside, something they do once a month during the summer months. It was a beautiful day. Rev Ferguson offered a wonderful sermon based on part of Paul's letter to the Ephesians highlighting the need to be unified as the people of God. Manassas has gotten very involved in outreach to those in their community that stuggle with homelessness and hunger. It all started by offering to help the Baptist Church in downtown Manassas with their weekly soup kitchen. The relationship has expanded and recently they started creating sleeping mats out of plastic bags to give out to homeless people (the last photo in the gallery). They have also started discussing getting invovled in micro-housing.
Silver Spring Presbyterian Church received a local mission grant to build a new fence around their long present garden. They garden had been getting hit hard by the local deer population, and the fence was seen as a fix to the problem. On the morning i visited, it was clear the fence was paying off, as the crop yield was looking substantial.
The garden is a collection of plots that are used by Silver Spring congregational members, which given its size, has garnered the nickname: The Farm. Farmers are born in both the USA and Cameroon. The American born farmers told me how much they are learning from their Cameroonian born partners on how to plant, and the Cameroonian born farmers are learning how to adjust to the shorter growing season and about all the plants available to them.
Much of the food ends up being used in congregational meals, but maybe the farm's greatest gift isn't the food but rather the space it provides for meaningful intercultural exchange. And as one farmer told me, after a long days work, nothing centers her more than working her plot for an hour or two. The farm truly offers Silver Spring Presbyterian church a chance to live into God's call for people to till the earth and keep it.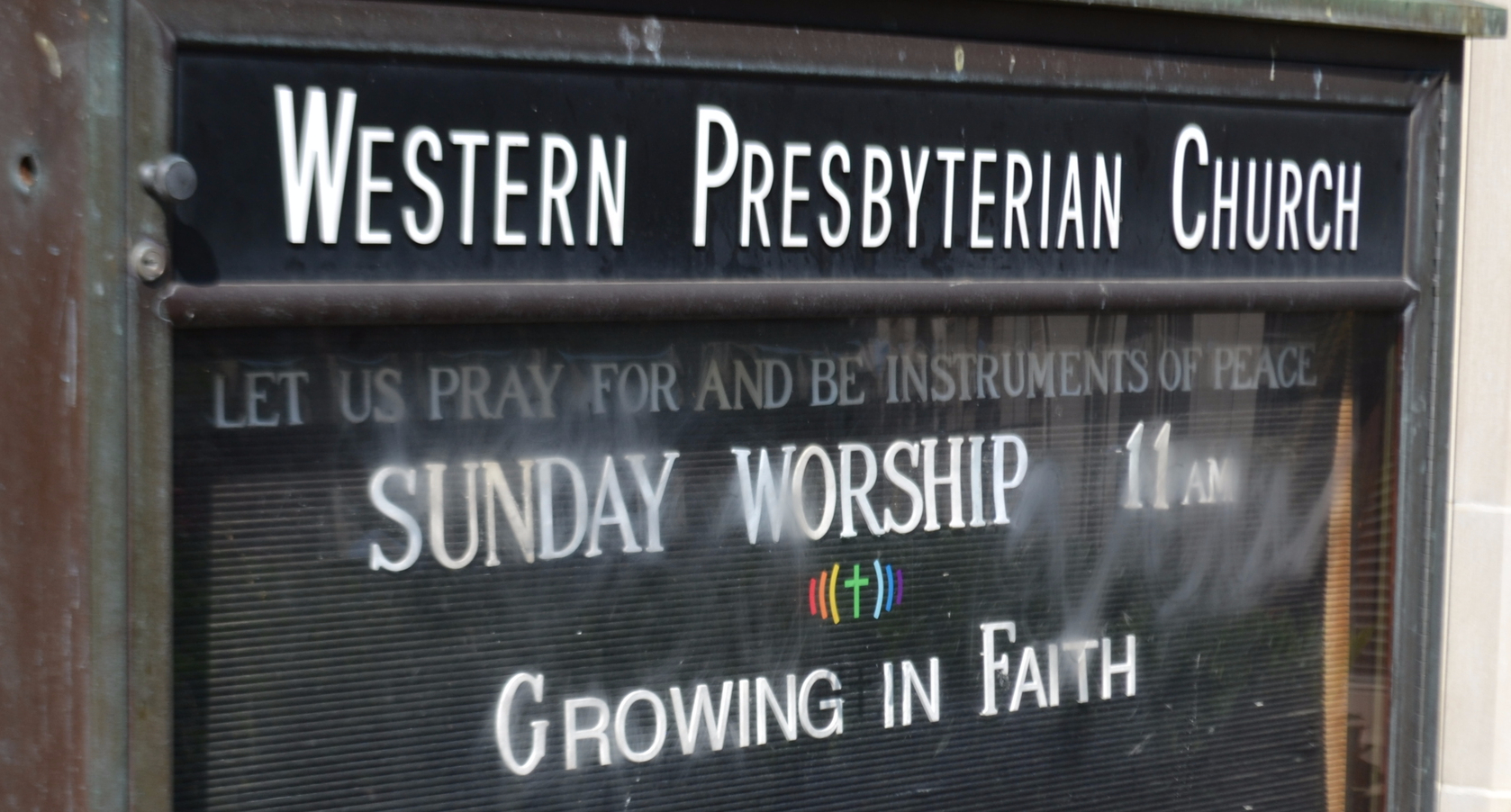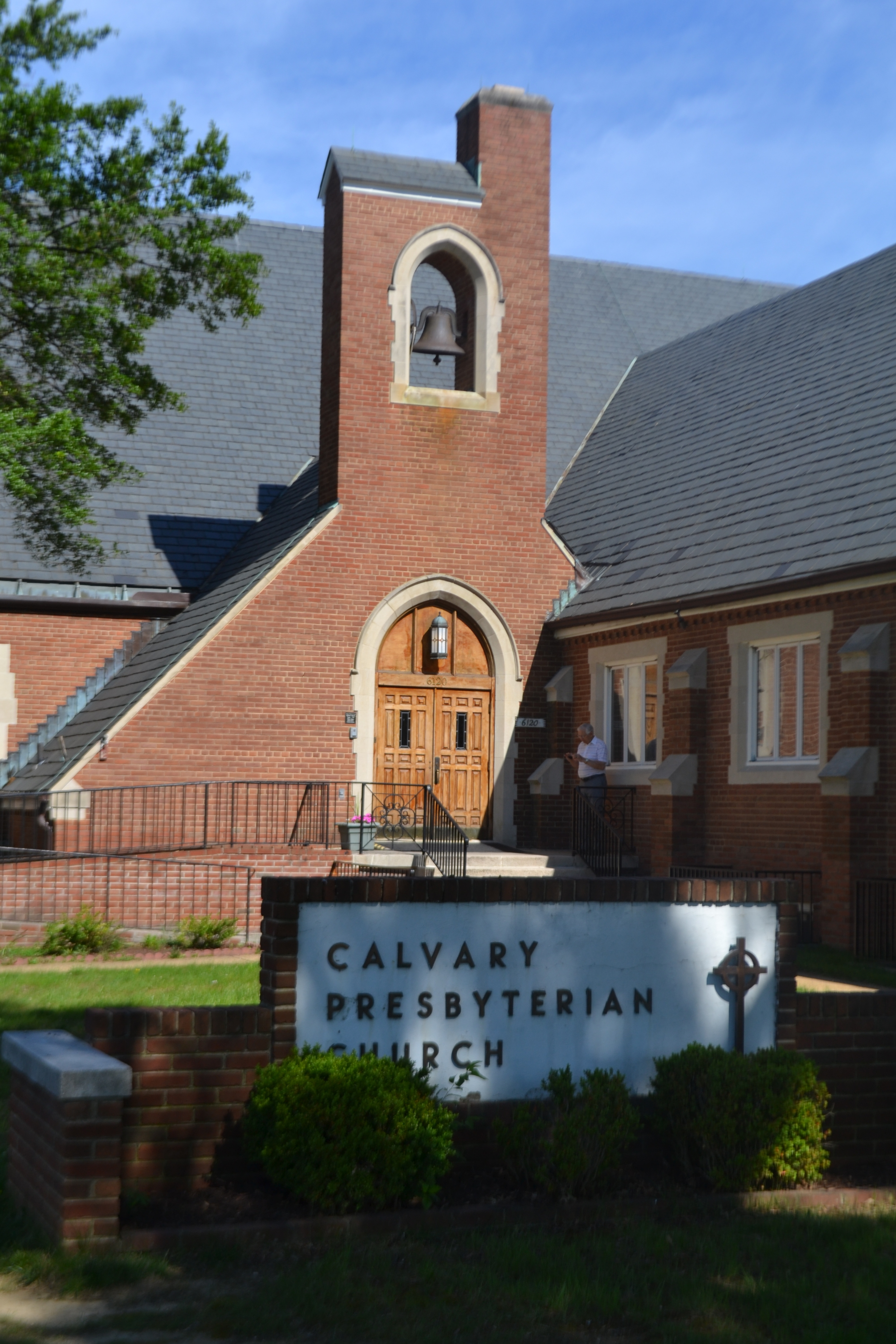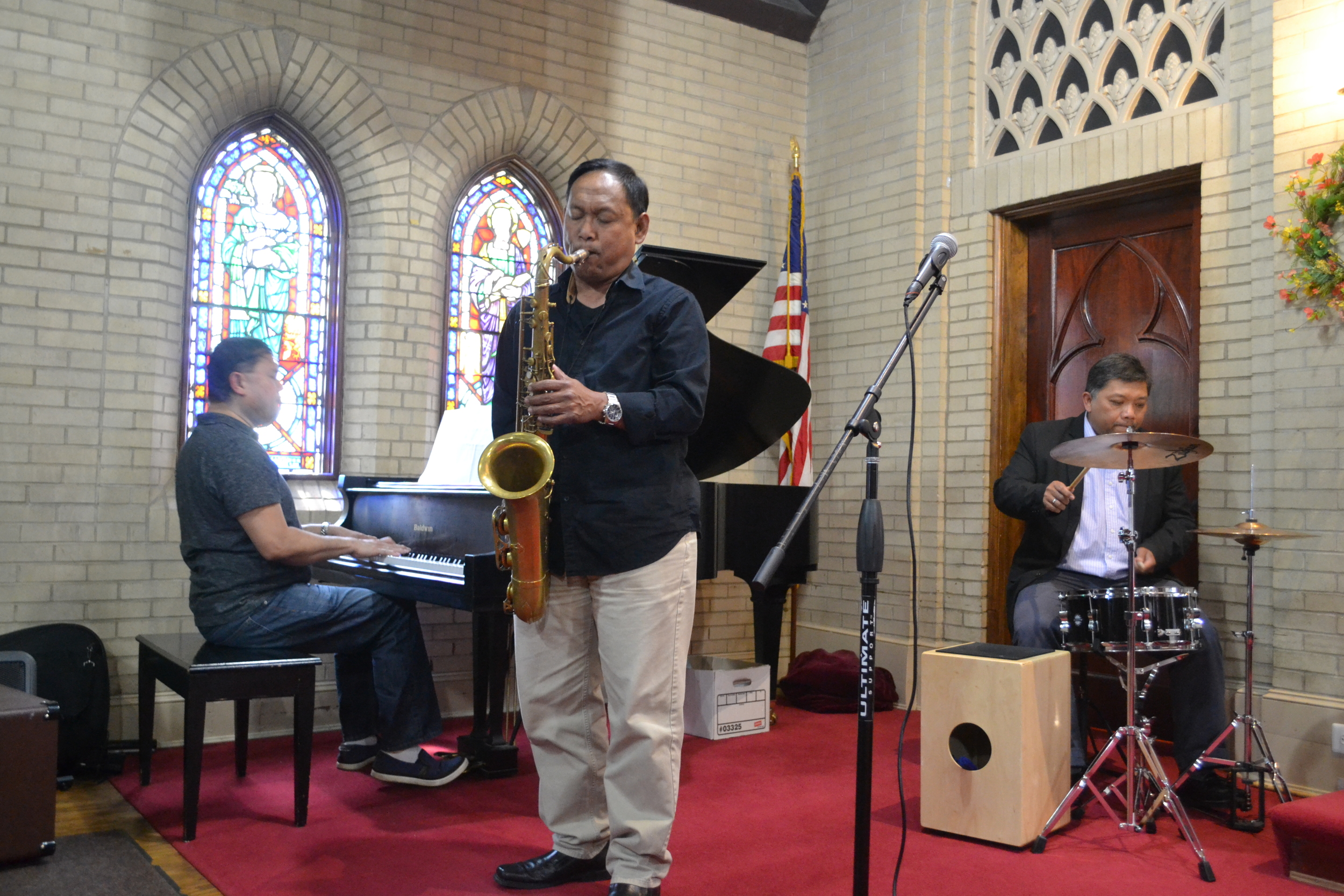 I visited Emmanuel Indonesian Presbyterian Church on Mother's Day. As part of the festivities there was a Jazz group that performed during worship, and a fried-rice competition that accompanied a larger meal and opportunities for members to sing backed by the Jazz band that performed during worship. Worship is bilingual with a wonderful mix of traditional and more contemporary music selections that fully allows for an integration of the worship traditions this primarily immigrant congregation brings with them, which is diverse as Indonesia is a country. IT is a congregation that focuses on community as central, extending that community through its outreach and service, all over the world.
St Mark's is a warm and welcoming church with strong Christian Education, innovative worship and expansive mission outreach both locally and globally. Rev Howard is committed to be a prophetic voice in the world, while striving to remain connected to the spiritual needs of the area.
Westminster Presbyterian Church in Alexandria, VA is the kind of church that seems so rare today. This large and growing church is seeped in traditional Presbyterian worship, centered on intellectual preaching and attended by capital hill's movers and shakers of both sides of the aisle.
Committed to being Christ's hands and feet in the world, the congregation supports numerous local, national and international mission projects. One of their mission highlights is the orphange and school they help found and still support in Kenya (check out the video at the bottom for more info).
Rev Larry Heyward is most interested in exploring what it means to be reformed and lives this out in his sermons, which take time to explore the nuances of reformed theology in meaningful and accessible ways.
A mirror of Alexandria, the church is not that old (recently they celebrated a 75th anniversary), but have a great history, with President Harry Truman as a speaker for the laying of the church's corner stone.
Church of the Pilgrims is located near Dupont Circle in Washington, DC. They have extensive local outreach, operating the Pilgrimage (for out of town volunteers to stay), a weekly soup kitchen and their sacred greens community garden. Their worship services are creative, interactive and have a strong lay component. Worshippers are as diverse as the neighborhood, with a very vibrant young persons group, who happen to be leading worship the day I attended. Click on any image to learn more about the church and the community.